Page précedente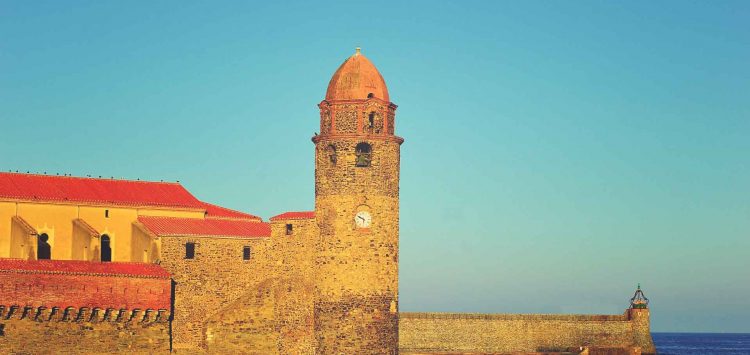 Church of Our Lady of the Angels
Église Notre-Dame-des-Anges
2 Pl. de l'Église 66190 Collioure
Any traveler who comes to Collioure always passes by this charming temple of ancient ages, in this church where many Lords of France made their offerings and their prayers. Take the opportunity to visit it during your camping holiday near Collioure .
Church of Notre-Dame-des-Anges in Collioure, a building steeped in history
It is difficult for the gaze to resist the attraction of its steeple which juts out into the sea like a lighthouse and which rises very high in the air. Obviously, it was originally a lighthouse that signaled the proximity of land by smoke during the day and by fire at night. One can imagine what poetry this advanced position in the sea must have suggested to the medieval Christians of this church. It is in the Southern Baptist style and was erected between 1641 and 1691.
The building has been restored several times. But, you will still find paintings from the 15th century, a dressing room dating from the time of Louis XIII, a reliquary from the 16th century, a Virgin dating from the 17th century and many other marvels that our culture has created over the years. ages.
Everything here is vintage. For example, the holy water font that you find next to the entrance recumbent is made in 1693 from red marble. As for the recumbent figure, which is a representation of Jesus surrounded by Mary and Saint John, it is from the 18th century.
Faith and medieval art at the heart of the Church of Notre-Dame-des-Anges in Collioure
All the faith of an era is here, especially in the Sainte-Lucie chapel, famous for its eponymous altarpiece made since 1719. There are statues of saints to whom medicinal virtues are attributed : Saint Agnes, Saint Catherine of Alexandria and Saint Barbara, Saint Agatha and Saint Martha.
There are many other chapels there, each filled with its history, its testimony to the fervor of the people of yesterday. You will find for example the relics of Saint Vincent de Collioure in his chapel. It is since August 16, 1700 that these relics have been brought back from Rome.
But, we have not yet told you anything about the pictorial richness of the place, and especially all the paintings which describe sections of biblical scenes or medieval Christian traditions .
In short, you absolutely must visit this church which is still full of what France was, its medieval art so expressive both in the architectural work and in the paintings and statues.
To go further in the visit of the Côte Vermeille and in particular of Collioure, the most curious can go to the superb Royal Castle of Collioure .