Mobile home rental in the Pyrénées Orientales (66)
Staying in a mobile home in the Pyrénées Orientales
Discover our wide range of comfortable mobile home rentals in the Eastern Pyrenees at the Vallée campsite in St Jean pla de Corts , between Céret and Le Boulou . You will feel at home and so you will make the most of your holidays in the Pyrénées Orientales , between the thermal baths of Boulou and Céret , near the Spanish border .
Out of season: for 2 weeks purchased, the 3rd week free at La Vallée campsite!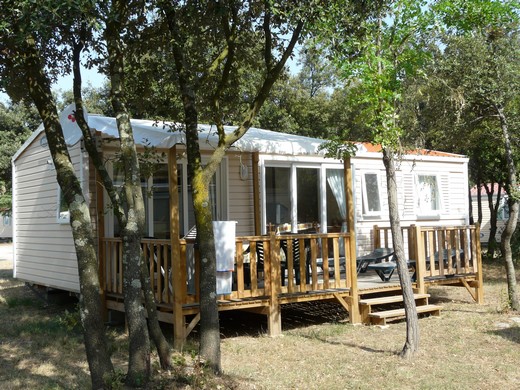 Rent a mobile home near Céret
in a natural and relaxing setting
You will discover it very quickly, the region of Languedoc Roussillon (Occitanie) is truly magnificent, with its lush landscapes, its mountains and its bewitchingly charming lakes. The geographical location of Camping de la Vallée will allow you to discover them during your stay in the eastern Pyrenees, between sea and mountains . Not to mention the variety of entertainment available to you for your holidays at Camping de la Vallée, a low-cost campsite in the Pyrénées Orientales with swimming pool . However, a successful holiday requires quality services. This is why our team offers you spacious and comfortable mobile home rentals of 16 m² for two people and up to 36 m² to accommodate up to 8 people.
Without forgetting the covered or semi-covered terrace of 8 m² to 15 m² according to your desires. Perfect for enjoying the Mediterranean sun while staying in the shade! But if you don't like hot weather, don't worry, because some of our rentals have efficient air conditioning . You can sleep in a fresh and invigorating atmosphere. As for people with disabilities, they will appreciate our 32 m² disabled-accessible mobile home , also equipped with air conditioning. Camping de la Vallée is the ideal place if you are also looking for a last minute mobile home rental in the Pyrénées Orientales .
Take advantage of rentals equipped for your relaxation
Yes, we absolutely want you to feel comfortable during your stay in your vacation rental in the Pyrénées Orientales, in St Jean Pla de Corts. Also we offer, in each of our Mobile homes, a kitchen where you will enjoy cooking. Open onto the terrace for maximum conviviality, they include a sink, a hob, a fridge, an electric coffee maker, a microwave and a television.
The toilets consist of the shower, sink and toilets, which are separated in some models. Among the useful equipment, you will find a garden furniture and clothes dryer. No need to bring crockery, we provide you with the necessary. In addition, storage has been provided for food products.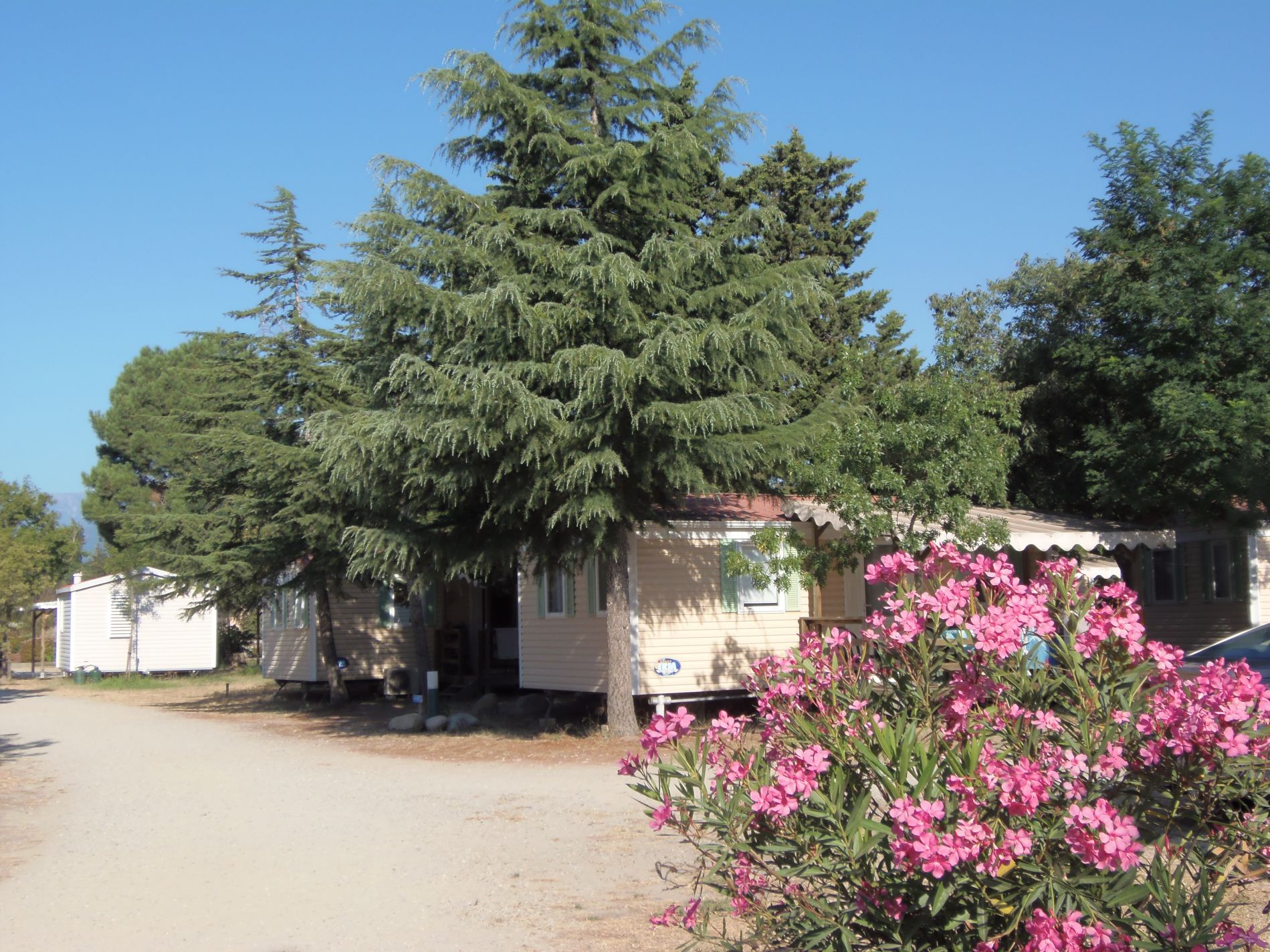 Comfortable accommodation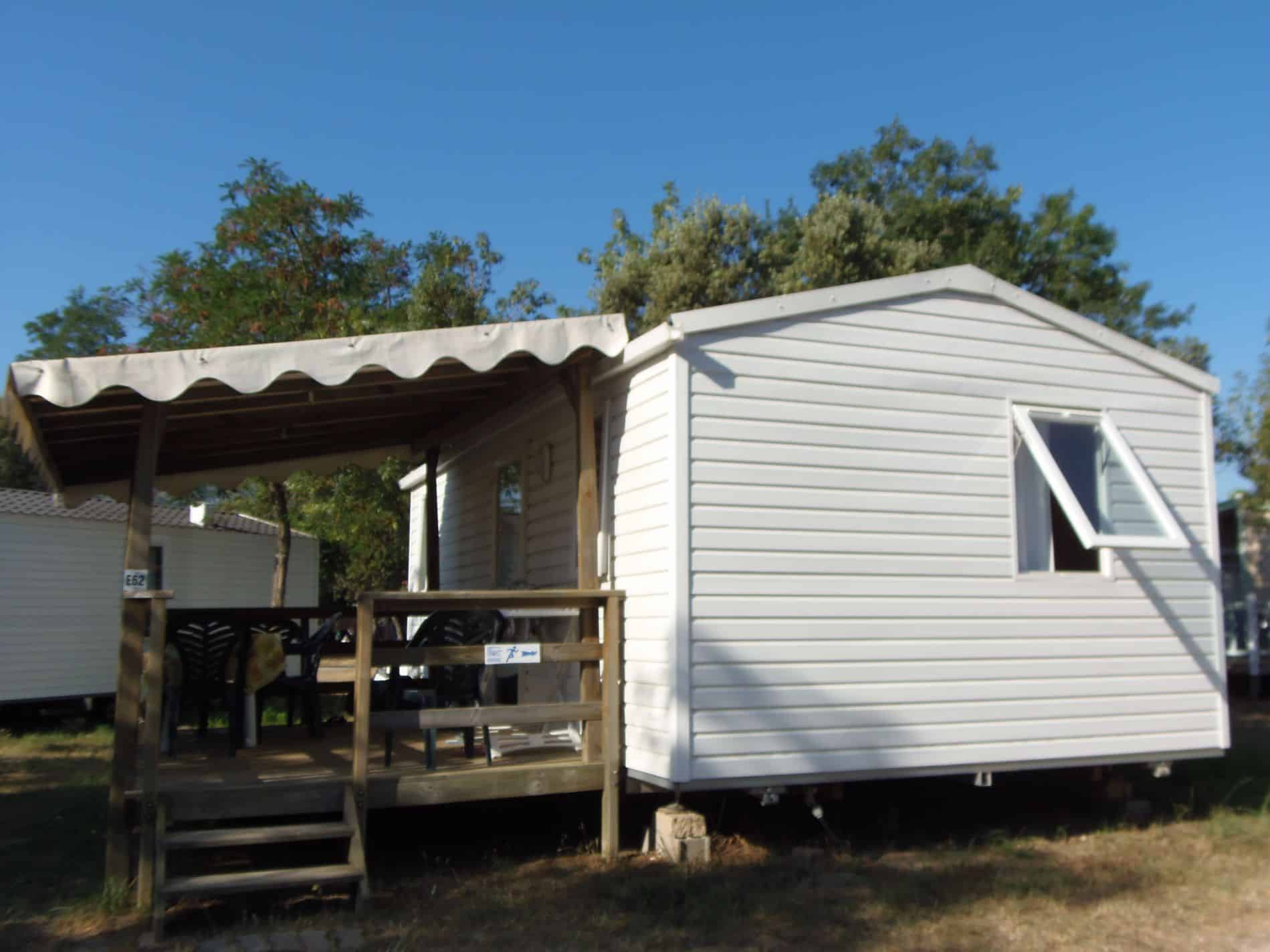 Holiday rental Pyrénées Orientales: comfort like at home
Another interesting advantage: some rental models can include: benches that can be converted into a double bed (ideal if you have surprise guests), a freezer, air conditioning, etc.
Finally, the bedroom(s) have one or more single or double beds depending on your needs. All that remains is to savor moments of pure happiness in our beautiful region…
The balance of the stay is payable in full 30 days before arrival . No reduction will be granted in the case of late arrival or early departure.
Bed linen is not provided, blankets and pillows are available for hire (€6/blanket/stay and €3.5/pillow/stay) or you can bring your own.
On the day of your rental, an inventory will be carried out. Any damage caused by you will be subject to a deduction from your deposit or additional invoicing.
Cancellation insurance for your stay at La Vallée campsite (66)
4% of the cost of the stay . All reservations are subject to a deposit of 30% of the total cost of the stay. A deposit of 400 € will be requested on the day of your arrival.
Our prices are calculated per week from Saturday 4 p.m. to Saturday 10 a.m. (in season or from 3 nights every day of the week in low season)
The cleaning of the rentals is the responsibility of the tenants (or a cleaning package of 50 € can be chosen if you do not wish to take care of it – this package does not exempt from the minimum cleaning required as well as from the dishes done)
Electricity and gas are included in the rental
The rental is valid when the management has sent confirmation by mail or e-mail which must be presented on the day of arrival.
Any late arrival or departure will be the responsibility of the tenant. In the event of an unreported delay, the rental will be maintained for 48 hours; after this period it may be assigned to another tenant
In the event of default by the tenant, the amount of the deposit and booking fees will remain acquired by the lessor.